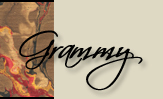 Ruby Short McKim, known as "Grammy" to family, was a true Renaissance woman, way ahead of her time. She is nationally known as a top quilt designer of the 1920s and 1930s, but she was so much more. She was a fine artist who expressed her talent in many mediums, as well as a sharp business woman. Grammy was a devoted wife, loving mother and an attentive, loving grandmother. She had a tremendous impact on us all, making us all feel extra special.

Our family wants to bring Grammy's life and her life's work back to life, no longer packed away in dusty boxes in the attic. We are lighting up her legacy and want to share the joy of her life and beauty of her talent with those who would appreciate it.

We have many "Treasures" currently available, and are always adding more so be sure to keep checking back for new additions! If you can't find what you're looking for on our website, let us know and we'll check our family archives.
· · ·
Please be sure to check our 101 Patchwork Patterns by Ruby Short McKim website. All of the original patterns and information from the 1931 edition are free to download and print!
---
· · · NEW FOR 2017 · · ·
---


2017 Block Party with Eleanor Burns
2017 Webinar

12 Months of Fun - Quilts, Projects and More!

To honor Ruby and her contribution to Quilting, Eleanor has dedicated her 2017 Block Party to projects and Quilts inspired by Ruby McKim. Learn how to make Zipper Bags, Travel Cases, Aprons, Bonnets, Baby Quilts, and more! Each month will be a new project and a new pattern!

CHECK IT OUT!!!

---

ANIMAL ALPHABET
CUSTOM PLACEMATS

Placemats Customized for the
Sweet Little Lights in your Life!

"These initials are designed to use as embroidery patterns on things for children, on pockets, romper yokes, napkins, pillowcases or any other place for which the size would be correct. Each letter is grouped with an animal or bird of that initial."
—Ruby Short McKim

Get More Details…
RUBY'S FOUR SEASONS
APPLIQUE PANELS

These whimsical vintage panels, circa 1930, were originally designed for traditional appliqué. McKim Studios has reproduced these darling patterns with new instructions for wool appliqué.

Get More Details…
FLOWER INITIALS
CUSTOM PRINTS

Unique Custom Art Prints
Make a Great Gift!

"In this flower monogram each letter in the alphabet is combined with a flower beginning with that letter, swinging gracefully into a circle to make a most attractive spot of decoration."
—Ruby Short McKim

Get More Details…
---

QUADDY QUILTIE FABRIC PANEL
McKim Studios has created this full color fabric panel to honor Ruby Short McKim's 1st published quilt pattern, published in 1916 in The Kansas City Star



The Quaddy Quiltie blocks were originally designed for embroidery. The simple lines made it easier for children to learn the art of embroidery.

McKim Studios has colorized these blocks with hand-dyed wool, and created this 32" x 40" panel for you to use for a quilt or any other creative project you desire. Blocks cut 8" x 8", and the designs are approximately 6" x 6".

See Larger Views…

Order Quaddy Panels…

---

"Vintage 30s · Ruby's Treasures"
Fabric Line for Paintbrush Studio by Barbara J. Eikmeier and McKim Studios

We are so excited about Ruby's Fabric Line and Preprinted Panels of Farm Life and Flower Garden Blocks!

For More Information Contact
Anne Brousseau at
Fabri-Quilt, Inc. (816) 421-2000
abrousseau@fabri-quilt.com
---

RUBY'S CELEBRATION DAYBOOK

Based on Ruby's 2016 Celebration Wall Calendar,
this beautiful daybook is full of Grammy's history and her wonderful quilts.
It's great for taking notes at club, class, lectures, etc. with lots of undated space to use as needed.

Save 25%
Get a Closer Look…

---
Merrily McKim Tuohey
Youngest Granddaughter
of Ruby Short McKim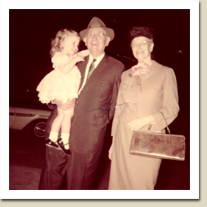 Many thanks to…


My mother, Barbara Frohoff, for continuing to inspire me to take this journey;

My sisters, Melissa and Laurie, and my brothers, Raub and Jamie, for their shared enthusiasm;

My husband, Michael, for his loving support and endless patience;

My mother-in-law, Kathleen Tuohey, and David Jackson of the Jackson County Historical Society for their excitement and support in this effort;

and last but not least, my cousin, Chris Jones, for her devotion to collecting and organizing so much valuable information about our Grammy.


Most of all, I would like to thank Grammy for leaving us with such an extraordinary legacy.