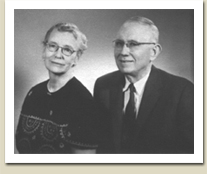 RUBY SHORT McKIM
1891–1976
Many are familiar with Ruby Short McKim's quilt and needlework designs. She is widely recognized for her body of work, as well as for her book One Hundred and One Patchwork Patterns published in 1931. Her quilt pattern series were syndicated in newspapers all over the country–weekly or monthly. Readers would patiently (and sometimes impatiently) wait for the next block. Her first published series was the "Quaddy Quiltie", also known as the "Bedtime Quilt", in 1916 in the Kansas City Star. This was the launch of her new-found career, with children's themes at the heart of those first offerings.

Grammy was born in Millersburg, IL in 1891. Her older sister, Cordie, was born in 1881, her brother June in 1884. In 1899, when Grammy was 8 years old, the family moved to Independence, MO into a log cabin riddled with bullet holes from the Civil War. Her father, Morris T. Short, a frontier missionary affiliated with the Reorganized Church of Jesus Christ, Latter-Day Saints (now Community of Christ), died of ill health in 1901 just two years later. They were a poor family financially, living on donations from church members and her mother's job as a librarian with the church, but their life was rich in values. Her mother, Viola Vernon Short, was a powerful role model for her children. She was an accomplished teacher before marriage, and a strong promoter of children's education. Later she even published her own book and traveled around the country promoting it at the same time the McKims were traveling to promote the quilt patterns.

Grammy showed an early interest in drawing, carrying a sketchbook with her everywhere she went. After graduating from High School in 1910, her uncle sponsored her studies at the New York School of Fine & Applied Arts, now known as Parson's, The New School for Design. She graduated in 1912, with her diploma signed by Frank Alvah Parsons, himself. Grammy then returned to Independence becoming the Supervisor of Drawing for the Independence School District, and a very popular teacher among the students. In 1916, she taught at Manual Training High School in Kansas City, MO.

That same year, Henry Holt and Company, a New York publishing firm, was getting ready to launch a series of children's stories about small woodland animals written by author Thornton Burgess. Ruby Short was chosen as the winner of a contest held by the Kansas City Star to design a quilt pattern for children which they would publish in the paper. Her "Quaddy Quiltie" quilt blocks were published in a promotion that was co-copyrighted with the author. This was her first, and probably most famous quilt series. The same New York publisher was also publishing a book by Independence lawyer and author, William Rose, entitled The Tin Owl Stories, Grammy was chosen as one of the illustrators for that book as well.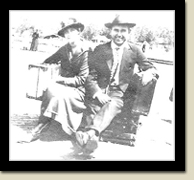 Ruby Short, artist, married Arthur McKim, a public relations businessman, in 1917, and so their journey began. Following her dream to inspire others' creativity through her art designs, Grammy stopped only to give birth to Betty, their first child, in 1918. From about 1920 to 1922 the McKim duo was on the road, building business relationships across the country in order to sell Grammy's quilt patterns and needlework designs, while family members at home took care of Aunt Betty. When their second child, Marilyn, was born in 1923, the family told them it was time to stay home. Traveling paid off. In January 1922, Ruby Short McKim became the Children's Art Editor of a new publication, Child Life Magazine. This relationship, which included quilt patterns and needlework projects for children, continued into the 1930s.

Settling down in Independence, Granddaddy worked for Franken, Frank & Company, a Kansas City ad agency, to support his family, while Grammy taught art in the basement of their house and continued supplying newspapers with new quilt patterns. In 1925, Granddaddy accepted an advertising job for the Brown Shoe Company, moving their family to St. Louis; Grammy continuing her work from there. In 1927, they decided to return once again to Independence.

With the growth of Grammy's popularity (she was now offered the position of Home Art Editor with Better Homes & Garden Magazine), they started McKim Studios in 1928. This was a home-based mail order business offering needlework supplies and patterns. Their Designs Worth Doing catalogs featured many patterns and projects for the everyday woman so that all could have beautiful, well-designed, artful items in their homes at very little cost. They also published Adventures in Needlecraft as well as smaller catalogs which featured quilts from early Americana.

Throughout this time, Grammy and Granddaddy continued establishing many contacts in the publishing world. The relationship with the Kansas City Star began with the publication the "Quaddy Quiltie" series in 1916. When the Star started publishing continuous quilt patterns in 1928, Grammy was chosen as their designer for the first three years. She continued designing for them only intermittently until the middle of the 1930s as she had moved on to other ventures such as Women's World magazine which featured Grammy's whimsical "Jolly Circus Quilt" in 1921, and offered pre-stamped kits through the mail. In 1922, they featured "Betty Blue & Bobby Shaftoe", familiar nursery characters of the day. Child Life Magazine published "Alice in Wonderland" and the "Child Life Quilt" as well as needlework crafts for children. These quilts were designed in the linear fashion she had made famous in her 1916 "Quaddy/Bedtime Quilt". Later her style changed to a more organic form for the children's quilts. The "Adventures in Home Beautifying" column for Better Homes & Garden magazine focused on a different room of the house or craft idea each month. This lasted until 1938, although she wrote under the pen-name of Doris Hale the last four years.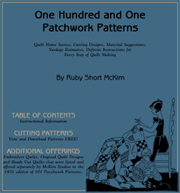 In 1931, Grammy published One Hundred and One Patchwork Patterns. These patterns were a compilation of old time quilt patterns redrawn or reworked by Grammy. The informative text was written by Grammy and possibly Granddaddy. Many people still consider this book to be their 'Quilt Bible'. Reprints of the book have been revised and omit a lot of the original content. Our website includes everything from the original 1931 printing, all 101 patterns are free to download, and the valuable text can easily be printed. If interested go to http://www.101patchworkpatterns.com.

The 1930s was the business and personal transition decade for the McKims, starting with the arrival of my father, Kim, in 1933. In addition to the changes in demand of quilt related products, McKim Studios had grown so large that it was necessary to 'job out' different aspects of it. They couldn't ensure quality control, and Granddaddy refused to put out an inferior product. So began the metamorphosis of McKim Studios into Kimport Dolls, around 1935.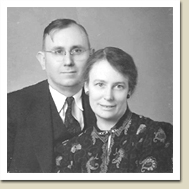 Grammy's art talents also found a place in the family's new venture, with the publication of a bi-monthly magazine, Doll Talk. This publication was a catalog of foreign, Kimport-made, or antique dolls offered via mail-order to customers worldwide, and included pictures of which she often sketched herself.

Because of her work with dolls and quilts, Ruby had the honor of being included in the early 1980s, 2nd edition of Who's Who Among American Women. She was also inducted into the Quilter's Hall of Fame in 2002. In addition to the quilt designs and Doll Talk illustrations, Grammy was an accomplished artist. Her charming watercolors and oils are among the family's prized possessions as they depict vacations and events within our lives. To her children and grandchildren she was an example of how every person can set and achieve goals. She believed in living life to the fullest, taking time to enjoy the beauty nature has to offer. She shared that beauty with family, friends and all who came to know her work. Combining her vocation with marriage and family, she was a woman ahead of her time, and one that will be remembered by many for a long time to come.

Merrily McKim Tuohey
Youngest Granddaughter of Ruby Short McKim

Made possible with the assistance of Christina Fullerton Jones
Eldest Granddaughter of Ruby Short McKim · Family Historian
---
Through generous donations, a growing assemblage of historical materials documenting Grammy's life's work and legacy are being properly preserved as "The Ruby Short McKim Collection" at the:
Jackson County (Missouri) Historical Society Archives
---