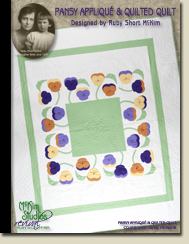 CLICK BOOK COVER TO VIEW PHOTOS
NEW!!!
Ruby Short McKim Collaborative
• Special Edition •

PANSY APPLIQUÉ & QUILTED QUILT
Item No. 660
As Advertised in 101 Patchwork Patterns and Designs Worth Doing [ circa 1930 ]

"This is an appliqué pattern using that gentle flower favorite, the pansy, conventionalized somewhat to form a center border which is really just twelve blocks, each 12 inches square. This is surely reducing the number of blocks in a quilt to a minimum, yet their close position on the quilt gives the effect of generous, even prodigal profusion.

"The quilting patterns suggested for making up this beautiful quilt include the center Feather Circle, 18 inches across, the Cable, Ostrich Plume, Feather Band and Pineapple [2]."
THIS BOOK INCLUDES:
Original Published Text
Original Illustrations
(12) Remastered Patterns
Miniature Profile
Ruby Short McKim Biography

FINISHED SIZE:
Approximately 73" X 83"
+ P L U S +
This RSMC Special Edition
Includes the following extras:
•
Full Color Quilt Photos
•
Comprehensive Instructions
•
McKim Family Story
•
Only $22.50


Patterns on CD $3.00
FOR EASY PRINTING
Available only with purchase of the book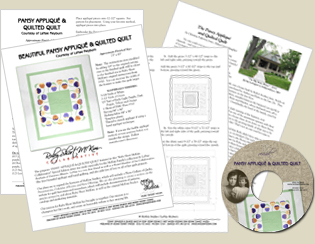 The STUNNING Pansy Appliqué & Quilted Quilt featured in this book was created by my dear friend and colleague LaNae Reyburn of Geneseo, IL.

Also many thanks to Melinda from Long Beach, WA for her generousity with time and expertise. I couldn't have completed this pattern set without her.