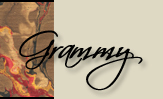 Ruby Short McKim, known as "Grammy" to family, was a true Renaissance woman, way ahead of her time. She is nationally known as a top quilt designer of the 1920s and 1930s, but she was so much more. She was a fine artist who expressed her talent in many mediums, as well as a sharp business woman. Grammy was a devoted wife, loving mother and an attentive, loving grandmother. She had a tremendous impact on us all, making us all feel extra special.

Our family wants to bring Grammy's life and her life's work back to life, no longer packed away in dusty boxes in the attic. We are lighting up her legacy and want to share the joy of her life and beauty of her talent with those who would appreciate it.

We have many "Treasures" currently available, and are always adding more so be sure to keep checking back for new additions! If you can't find what you're looking for on our website, let us know and we'll check our family archives.
· · ·
Please be sure to check our 101 Patchwork Patterns by Ruby Short McKim website. All of the original patterns and information from the 1931 edition are free to download and print!
---
NEW!!!
From "Grammy's Patchwork Garden" Series



"The Butterfly Quilt

here is an entirely new quilt that you will want—it's so dainty, different and altogether stunning. Twenty-one butterflies in prints and plain colors of yellow, pink and blue are all in one delightful, rainbow-hued scheme. Or, you may use scraps of your own prints for top wings and plain cloth for lower wings; all different would surely make a quite permissible plan for butterflies."




"The Tulip Quilt

is simple to do and is sunny and attractive in different shades of orange with accompanying green leaves. It sets together like a diamond-paned window with white blocks and colored squares."


•

Ruby Short McKim [circa 1927]

•

Go to: Treasures/Quilts to Get the Details!
---
Merrily McKim Tuohey
Youngest Granddaughter
of Ruby Short McKim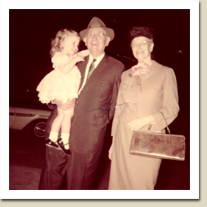 Many thanks to…


My mother, Barbara Frohoff, for continuing to inspire me to take this journey;

My sisters, Melissa and Laurie, and my brothers, Raub and Jamie, for their shared enthusiasm;

My husband, Michael, for his loving support and endless patience;

My mother-in-law, Kathleen Tuohey, and David Jackson of the Jackson County Historical Society for their excitement and support in this effort;

and last but not least, my cousin, Chris Jones, for her devotion to collecting and organizing so much valuable information about our Grammy.


Most of all, I would like to thank Grammy for leaving us with such an extraordinary legacy.